Leading Manpower Supply Company in Malaysia that provides a full spectrum of related services such as Recruitment solutions (Temporary & Permanent), Foreign Worker Supply and Manpower Consultancy Services.
Partnering with an established Manpower Supply Company for your workforce would be highly beneficial in many ways as it reduces your Recruitment costs and time to hire.
Enterprises that engage Manpower Supplier have an added advantage over their peers.
Since 1989, We have been active Manpower Supplier providing around 2000 foreign workers each year from neighboring source countries.
However Handling Manpower, especially the foreigner workers, involves a deeper understanding, a way to communicate effectively with different nationalities, cultures and personality types.
Looking for Manpower Supplier in Malaysia?

Get in touch with us Today for One Stop Manpower Supply Solutions

Send us Message
1. We are Devoted, Committed and Dedicated

We are devoted and committed to arrange efficient workforce to our clients.
We are committed for better welfare for our workers.
Our active involvement in Manpower Supply [Local & Foreign Worker] as well as Management of workers in Malaysia.
2. Professional Team
100+ Full-time Professional Staff.
6 Offices (Branches) across Peninsular Malaysia.
Operation Management Handling @ 2000 Workers each year.
Long term Association with The Best Manpower Agencies in Source Countries (Bangladesh, Pakistan, Philippines, Nepal, Vietnam, Indonesia, India and Myanmar).
Our dedicated, committed and dynamic staff is devoted to clients', providing you with the highest standards in outsourcing manpower and immigration related services.
Professional staff to actively monitor and respond to any issue that occurs at the client's location where our worker is placed;
hence the client has nothing to worry about, simply said and We are Problem Solvers.
3. Manpower Supplier (Regional Presence in Peninsular Malaysia)
In order to provide you with fast, quick and efficient Manpower Staffing Services, we have come closer to you.
Manpower Supply Offices in Peninsular Malaysia:

– Penang
– Selangor (Ampang, Bandar Sunway)
– Melaka
– Johor Bahru (Senai, Pontian, Pasir Gudang),
– Kuantan and Terengganu
– Perak
4. Complete Corporate Setup
All of our offices are digitized, the Bar-code Tracking System (BTS), which keeps the record of passport location in real-time, Central Security Management System with Security Surveillance, High tech vaults, Advance alarm systems, which helps us to secure our premises 24/7 and much more.
5. Back-Up & Crisis Management
We do maintain healthy relations with both our Employers and our workers, this is the reason why we are in this business from the past 31+ years and called a Trusted Employment Agency in Malaysia.
Our officials make frequent visits to the workplace and the office of the employer to assist them in various personnel-related affairs and also for boosting the morale of the workers.
Well-prepared for "Crisis Management" in case the situation arises.
6. Logistics Service & Facility
Our Logistics Teams have developed a reliable transportation and logistics network that uses the most efficient and effective means for us to manage workers.
Our Mission is to get the worker to the right place, at the right time.
Furthermore, Our Logistics Teams continue to optimize transportation costs where by improving quality and striving to exceed the service expectations of our customers.
7. Global Network of Foreign Workers Agents and Consultants
We operate through a network of offices within Malaysia and a large number of associates internationally.
This wide-ranging network coupled with Andaraya's long time relationship has given the company the competitive edge over its rivals.
This is to ensure that we recruit suitable labour force to our clients.
Our recruitment services are not limited to Manpower Supply, but also Training, Orientation programme and many more
Our network of Associates is based in Bangladesh, Indonesia, Thailand, Vietnam, Myanmar, Pakistan, Nepal and India to name a few.
8. Foreign Workers Centralized Management System (FWMS)
Our "Foreign Workers Recruitment and Management System" (FWMS) is a

resourceful database management system, which helps to improve our working efficiency.
a) Monitor the foreign workers permits.
b) Tracking worker's location quickly.
c) Payroll Management.
d) Build up the database and profile of each of our workers.
……and much more.
9. For Business of All Sizes, Small Business, Medium Enterprise and Multinational Companies
We have a long-standing and enjoy unquestionable credibility in the local and International market, hence multinational companies, specifically American, Korean, Chinese and Japanese companies trust us, and we have served them all in Malaysia.
10. Historical Track Record and Testimonials by our Clients
Till date, We have served more than 400 Clients (including SME and Big Business) with Migrant worker force from Bangladesh, Pakistan, Indonesia, Vietnam, Myanmar, Philippines, Nepal and India;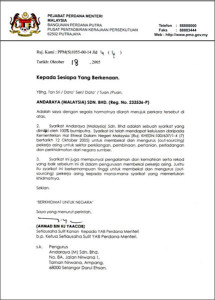 We've built an excellent track record – The Letter of Recommendation from Prime Minister's Office in Malaysia.
11. Financially Stability
Our financial stability has been one of the key elements for the consistent growth of the company, thus we are capable of handling any unprecedented financial crisis.
We practice paying workers' salary ahead of collecting claims from our clients, which amounts to millions of monthly.
Engaging a Manpower Recruitment Agency in Malaysia is a wise decision.
Because, Worker Supply is purely based on your Demand, it's easy for you (as an employer) to only Hire Worker as per your workforce requirement.